Nichols Thrills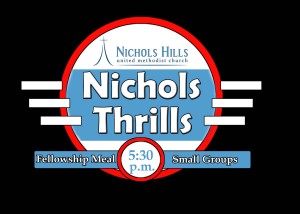 Nichols Thrills is a mid-week opportunity to meet new friends and grow in your relationship with God. Nichols Thrills begins at 5:30 p.m. with a Fellowship Meal for all ages. Nichols Thrills runs from Wednesday, August 24 through Wednesday, November 16, with a meal at 5:30 p.m. and four meaningful groups for adults.
Disciple Fast Track is an adaptation of the original Disciple Bible Study. Join us this fall for a 12-week in-depth study of the Old Testament. Participants will read three to five chapters of the Bible each day between sessions and will meet each Wednesday to discuss and learn together for 75 minutes. The price of the book is $22.
Leader: Dr. Trevor Smith.
Dave Ramsey's Financial Peace University is a nine-week class on faith and money. Would you like to eliminate $5,300 in debt and save $2,700 in three months? Dave and his teaching team will walk you through the basics of budgeting, dumping debt, planning for the future, and much more! The price is $99. Leader: Jean Warner.
The Remain College and Young Adult Ministry meets in the downstairs basement. Come enjoy food, fellowship and a meaningful small group. Call the Church Office at 405.842.1486 for more information.