Nichols Thrills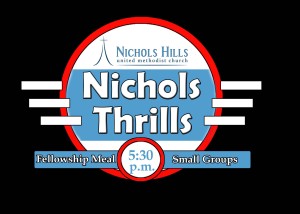 Nichols Thrills is a mid-week opportunity to meet new friends and grow in your relationship with God. Nichols Thrills begins at 5:30 p.m. with a Fellowship Meal for all ages and classes to follow.
Keeping Faith Alive is a six-week study that focuses on passing our faith from one generation to the next. How can older and younger Christians, and everyone in between, work together to strengthen the Church? The apostle Paul captures these challenges in his two letters to his young protégé, Timothy, and another letter to a young leader named Titus. Join us as we study these books and Keep the Faith Alive. Leaders: Rev. Michael Carpenter and Dr. Trevor Smith
The Quest is a six-week women's study by Beth Moore that invites you to experience  vulnerability and intimacy  with God. Over and over in the Bible we see the people of God asking questions of their Creator. We also see the God of the universe asking questions of God's creation. The Quest is a challenge to accept the invitation. Learn to dig into God's Word, to respond to the questions of God, and to bring your questions before God. This study includes daily scripture readings for you to do at home and will help you learn how you can be part of helping our church attract people in our community and help them grow in faith. The price of the Study Journal is $15. Leader: Allyson Smith
We hope you will join us for one of these meaningful small group opportunities. To sign-up, follow this link: https://nicholshillsumc.wufoo.com/forms/q1slulr0sh9uxu/ or click the logo above. You could also sign-up in the Narthex after worship or in the Church Office at 405-842-1486 during the week.